THAILAND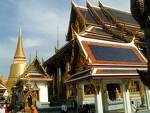 The Kingdom of Thailand is a country in Southeast Asia, bordering Laos and Cambodia to the east, the Gulf of Thailand and Malaysia to the south, and the Andaman Sea and Myanmar to the west. Thailand was previously known as Siam which was the country's official name until May 11, 1949. The word Thai means "freedom" in the Thai language and is also the name of the majority Thai ethnic group.
Location
Southeastern Asia, bordering the Andaman Sea and the Gulf of Thailand, southeast of Burma.
Geography
Controls only land route from Asia to Malaysia and Singapore .
Capital
Climate
Tropical; rainy, warm, cloudy southwest monsoon (mid-May to September); dry, cool northeast monsoon (November to mid-March); southern isthmus always hot and humid.
Language
Thai, English (secondary language of the elite), ethnic and regional dialects
Monetary Unit
Baht (THB)
Largest Cities
Bangkok, Samut Prakan, Nonthaburi, Udon Thani, Korat, Hat Yai, Chon Buri, Chiang Mai, Lampang, Si Racha
Principal rivers
Chao Phraya, Mekong
Places to Visit
Bangkok, Phuket
Air Ports
Bangkok International Airport (Don Muang), Phuket International Airport, Hat Yai Airport, Chiang Rai Airport
ISD codes & International time