Antarctica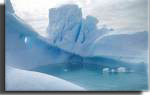 Among the seven continents on planet Earth, Antarctica lies at the southernmost tip of the world. It is the coldest, driest, and windiest continent. Ice covers 98% of the land, and its 13,209,000 sq km occupy nearly one-tenth of Earth's land surface, or the same area as Europe and the United States combined. Despite its barren appearance, Antarctica and its surrounding waters and islands teem with life all their own, and the continent plays a significant role in the climate and health of the entire planet.
Geography
Most of Antarctica is located south of the Antarctic Circle, surrounded by the Southern Ocean. It is the southernmost land mass and comprises more than 14 million km², making it the fifth-largest continent.
Economy
Fishing off the coast and tourism, both based abroad, account for the limited economic activity. Antarctic fisheries in 2000-01 (1 July-30 June) reported landing 112,934 metric tons. Unregulated fishing, particularly of tooth fish, is a serious problem. Allegedly illegal fishing in antarctic waters in 1998 resulted in the seizure (by France and Australia) of at least eight fishing ships.
The Convention on the Conservation of Antarctic Marine Living Resources determines the recommended catch limits for marine species. A total of 12,248 tourists visited in the 2000-01 Antarctic summer, down from the 14,762 who visited the previous year. Nearly all of them were passengers on 21 commercial (non governmental) ships and several yachts that made trips during the summer. Most tourist trips lasted approximately two weeks.
Climate
Climate Antarctica is the coldest and windiest spot on the planet. In fact, the lowest temperature ever recorded on Earth was recorded in Antarctica (-129.3ºF) and the mean winter temperatures range from -40º to -94ºF. Winds are commonly measured at up to 200 miles per hour.
Population
Although Antarctica has no permanent residents, a number of governments maintain permanent research stations throughout the continent. The population of persons doing and supporting science on the continent and its nearby islands varies from approximately 4000 in summer to 1000 in winter.
Antarctic and sub-antarctic islands
This is a list of Antarctic and sub-antarctic islands. Sub-Antarctic islands are islands in the Southern Ocean around Antarctica north of the Antarctic Circle (66° 33' 38"). Antarctic islands are the islands in the Southern Ocean or in the seas around Antarctica south of the Antarctic Circle. According to the terms of the Antarctic Treaty, all islands south of 60°S don't belong to any country. This includes all of the antarctic islands and some of the sub-antarctic islands.
| | | | |
| --- | --- | --- | --- |
| Adams Island | Adelaide Island or Isla Belgrano | Barry Island | Bear Island |
| Berkner Ice Rise or Hubley Island | Biscoe Islands | Booth Island | Bounty Islands |
| Bowman Island | Brabant Island | Breaker Island | Bridgeman Island (minor) |
| Burkett Islands | Burke Island | Charcot Island / Charcot Land | Christine Island |
| Clarence Island | Cormorant Island | Cornwallis Island | Cuverville Island |
| Danco Island / Isla Dedo | Debenham Islands | Deception Island | DeLaca Island |
| Direction Island or Bearing Island | Doumer Island | Dream Island | Drygalski Island |
| Dundee Island | D'Urville Island | Eichorst Island | Elephant Island |
| Elephant Rocks | Enterprise Island | Fletcher Islands | Gibbs Island |
| Greenwich Island | Half Moon Island | Halfway Island | Henderson Island |
| Hermit Island | Humble Island | James Ross Island | Janus Island |
| Jenny Island | Joinville Island group | King George Island | Livingston Island |
| Laggard Island | Latady Island | Liege Island | Limitrophe Island |
| Lipps Island | Litchfield Island | Livingston Island | Masson Island or Mission Island |
| Mill Island | Millerand Island | Nansen Island or Isla Nansen Sur | Nelson Rock |
| North Nansen Island | Neny Island or Neny Islands | Ohlin Island or Bailys Island | Outcast Islands |
| Paulet Island | Peter I Island | Petermann Island | Pobeda Ice Island |
| Possession Islands | Robertson Island | Ronge Island | Roosevelt Island |
| Ross Island | Rouse Islands | Shepard Island | Shortcut Island |
| Siple Island | Signy Island | South Shetland Islands | Spume Island |
| Stepping Stones | Stonington Island | | |