TONGA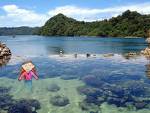 Tonga, officially the Kingdom of Tonga, is an independent archipelago in the southern Pacific Ocean. It lies about a third of the way between New Zealand and Hawaii, south of Samoa and east of Fiji.
Location
Oceania, archipelago in the South Pacific Ocean, about two-thirds of the way from Hawaii to New Zealand
Capital
Nuku'alofa
Climate
Tropical; modified by trade winds; warm season (December to May), cool season (May to December).
Language
Palauan 64.7% official in all islands except Sonsoral (Sonsoralese and English are official), Tobi (Tobi and English are official), and Angaur (Angaur, Japanese, and English are official), Filipino 13.5%, English 9.4%, Chinese 5.7%, Carolinian 1.5%, Japanese 1.5%, other Asian 2.3%, other languages 1.5%.
Monetary Unit
Pa'anga (TOP)
ISD codes & International time