SWITZERLAND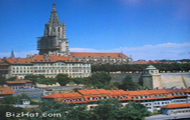 Switzerland is known for its neutrality. A country is neutral when it does not fight wars. Switzerland has been neutral for more than 150 years. Many international organizations are located in Switzerland. The United Nations have a main office in Switzerland.
Location
Switzerland is a relative small country in the west of Europe. North of Switzerland is Germany. East of Switzerland are Austria and Liechtenstein. South of Switzerland is Italy. West of Switzerland is France.
Geography
Landlocked; crossroads of northern and southern Europe; along with southeastern France, northern Italy, and southwestern Austria, has the highest elevations in the Alps.
Capital
Bern
Climate
Temperate, but varies with altitude; cold, cloudy, rainy/snowy winters; cool to warm, cloudy, humid summers with occasional showers.
Language
German (official) 63.7%, French (official) 20.4%, Italian (official) 6.5%, Serbo-Croatian 1.5%, Albanian 1.3%, Portuguese 1.2%, Spanish 1.1%, English 1%, Romansch 0.5%, other 2.8%.
Monetary Unit
Swiss franc (CHF)
Largest Cities
Zurich, Geneva, Basel, Bern, Lausanne
Principal rivers
Rhine
Places to Visit
Zermatt, St. Moritz, Geneva, Lucerne, Zurich, Grindelwald, Grimenz, Gstaad, Saas Fee, Ascona
Airports
Altenrhein, Ascona, Basel - Mulhouse Euroarpt, Berne Belp, Berne Rr Station, Geneva, Lugano Agno, Mulhouse - Basel, Euroarpt, Sion, St. Moritz Samedan, Zurich
ISD codes & International time