SRI LANKA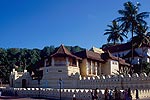 Sri Lanka's historical and cultural heritage covers more than 2,000 years. Known as Lanka--the "resplendent land"--in the ancient Indian epic Ramayana, the island has numerous other references that testify to the island's natural beauty and wealth. Islamic folklore maintains that Adam and Eve were offered refuge on the island as solace for their expulsion from the Garden of Eden. Asian poets, noting the geographical location of the island and lauding its beauty, called it the "pearl upon the brow of India." A troubled nation in the 1980s, torn apart by communal violence, Sri Lanka has more recently been called India's "fallen tear.
Location
Southern Asia, island in the Indian Ocean, south of India.
Geography
Strategic location near major Indian Ocean sea lanes.
Capital
Colombo
Population
20,222,240
Climate
SeoulTropical monsoon; northeast monsoon (December to March); southwest monsoon (June to October).
Language
Sinhala (official and national language) 74%, Tamil (national language) 18% other 8%
Monetary Unit
Rupee (LKR)
Largest Cities
Colombo, Jaffna, Kandy
Principal rivers
Mahaweli Ganga, Aruvi Aru
Places to Visit
Colombo, Anuradhapura, Kandy, Polonnaruwa, Sigiriya, Nuwara Eliya, Negombo
Air Ports
Incheon International Airport, Gimpo International Airport, Gimhae International Airport
ISD codes & International time