SPAIN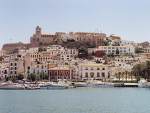 Spain occupies 85% of the Iberian Peninsula, which it shares with Portugal, in southwest Europe. Africa is less than 10 mi (16 km) south at the Strait of Gibraltar. A broad central plateau slopes to the south and east, crossed by a series of mountain ranges and river valleys.
Location
Southwestern Europe, bordering the Bay of Biscay, Mediterranean Sea, North Atlantic Ocean, and Pyrenees Mountains, southwest of France.
Geography
Strategic location along approaches to Strait of Gibraltar .
Capital
Madrid
Climate
Temperate; clear, hot summers in interior, more moderate and cloudy along coast; cloudy, cold winters in interior, partly cloudy and cool along coast.
Language
Castilian Spanish 74%, Catalan 17%, Galician 7%, Basque 2%
Monetary Unit
Euro (EUR)
Largest Cities
Madrid, Barcelona, Valencia, Sevilla, Zaragoza, Malaga, Murcia, Las Palmas, Bilbao, Palma, Valladolid, Cordoba, Vigo, Alacant, Gijon, Granada, A Coruna, Santa Cruz de Tenerife, Vitoria, Oviedo, Elx, Iruna, Jerez, Santander, Cartagena, Donostia, Almeria, Burgos, Salamanca, Albacete, Castello, Huelva, Cadiz, Badajoz, Leon, Logrono, San Cristobal de la Laguna, Tarragona, Jaen, Lleida, Marbella, Ourense, Algeciras
Principal rivers
Tajog, Ebro, Duero, Guadalquivir, Guadiana
Places to Visit
Madrid, Barcelona, Valencia, Granadas Alhambra, Seville
Airports
Alicante, Almeria, Asturias, Badajoz Talaveral, Barcelona, Bilbao Sondica, Cordoba, Fuerteventura, Gerona Costabrava, Gran Canaria, Granada, Ibiza, Jerez De La Frontera La Parra, La Coruna, Lanzarote, Madrid Barajas, Madrid Torrejon AFB, Malaga, Melilla Tahuima, Menorca, Murcia San Javier, Palma, Pamplona Noain, Puerto La Cruz, Reus, Salamanca Matacan, San Sebastian Fuenteraba, Santa Cruz La Palma La Palma, Santander, Santiago De Compostela, Seo De Urgel De La Seu, Seville San Pablo, Tenerife N Losrodeo, Tenerife Reinasofia, Torremolinos, Valencia, Valladolid, Valverde Hierro, Vigo, Vitoria, Zaragoza
ISD codes & International time