PORTUGAL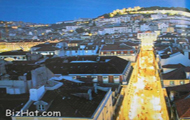 Portugal, officially the Portuguese Republic is located in southwestern Europe on the Iberian Peninsula, and is the westernmost country of mainland Europe. Portugal is bordered by Spain to the north and east and by the Atlantic Ocean to the west and south. The Atlantic archipelagos of the Azores and Madeira, are also part of Portugal.
Location
Southwestern Europe, bordering the North Atlantic Ocean, west of Spain.
Geography
Azores and Madeira Islands occupy strategic locations along western sea approaches to Strait of Gibraltar.
Capital
Climate
Maritime temperate; cool and rainy in north, warmer and drier in south.
Language
Portuguese (official), Mirandese (official - but locally used)
Monetary Unit
Euro (EUR)
Largest Cities
Lisbon [Lisboa], Porto, Amadora, Braga, Setubal, Coimbra, Funchal
Principal rivers
Amadora, Tagus
Places to Visit
Lisbon, Amadora, Algarve
Airports
BGZ Braga, Braganca, Chaves, Coimbra, Corvo Island, Covilha, Faro, Flores Santa Cruz Aerodromo, Funchal, Graciosa Island, Horta, Lisbon Portela Int. Airport, Pico Island, Ponta Delgada, Portimao Penina, Porto, Porto Santo, San Jorge Island, Santa Maria, Sines, Terceira Lajes, Vila Real, Viseu G. Lobato
ISD codes & International time