Poland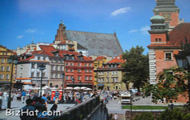 Poland officially the Republic of Poland is a country located in Central Europe. It is bordered by Germany to the west, the Czech Republic and Slovakia to the south, Ukraine and Belarus to the east, and the Baltic Sea, Lithuania, and Russia (in the form of the Kaliningrad Oblast enclave) to the north. Poland shares a maritime border with Denmark and Sweden in the Baltic Sea. Since May 1, 2004, the republic has been a member state of the European Union.
Location
Central Europe, east of Germany.
Geography
Historically, an area of conflict because of flat terrain and the lack of natural barriers on the North European Plain.
Capital
Warsaw
Climate
Temperate with cold, cloudy, moderately severe winters with frequent precipitation; mild summers with frequent showers and thundershowers.
Language
Polish 97.8%, other and unspecified 2.2%
Monetary Unit
Zloty (PLN)
Largest Cities
Warszawa, Lodz, Krakow, Wroclaw, Poznan, Gdansk, Szczecin, Bydgoszcz, Lublin, Katowice, Bialystok, Gdynia, Czestochowa, Sosnowiec, Radom, Kielce, Gliwice, Torun, Bielsko-Biala, Olsztyn, Rzeszow, Rybnik, Walbrzych, Plock, Elblag, Opole, Gorzow Wielkopolski, Wloclawek, Tarnow, Zielona Gora, Koszalin
Principal rivers
Vistula
Places to Visit
Krakow, Warszawa, Auschwitz, Gdansk, Zakopane
Airports
Bydgoszcz, Czestochowa, Gdansk Rebiechowo, Katowice Pyrzowice, Koszalin, Krakow, Lodz, Poznan Lawica, Rzeszow Jasionka, Slupsk Redzikowo, Sukhothai, Szczecin Goleniow, Szczytno, Warsaw Okecie, Wroclaw Strachowic, Zielona Gora Babimost
ISD codes & International time