PALAU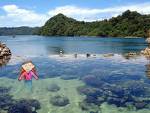 Palau is an island nation in the Pacific Ocean, some 500 miles (800 km) east of the Philippines. Having emerged from United Nations trusteeship in 1994, it is one of the world's youngest and smallest nations.
Location
Oceania, group of islands in the North Pacific Ocean, southeast of the Philippines
Capital
Koror
Climate
tropical; hot and humid; wet season May to November.
Language
Palauan 64.7% official in all islands except Sonsoral (Sonsoralese and English are official), Tobi (Tobi and English are official), and Angaur (Angaur, Japanese, and English are official), Filipino 13.5%, English 9.4%, Chinese 5.7%, Carolinian 1.5%, Japanese 1.5%, other Asian 2.3%, other languages 1.5%.
Monetary Unit
US dollar (USD)
ISD codes & International time