NETHERLANDS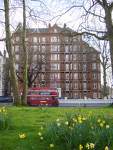 The Netherlands is the European part of the Kingdom of the Netherlands which is formed by the Netherlands, the Netherlands Antilles, and Aruba. The Netherlands is a constitutional monarchy, located in northwestern Europe. It is bordered by the North Sea to the north and west, Belgium to the south, and Germany to the east. The current borders were established in 1839.
Location
Western Europe, bordering the North Sea, between Belgium and Germany.
Geography
located at mouths of three major European rivers (Rhine, Maas or Meuse, and Schelde).
Capital
Amsterdam
Climate
Temperate; marine; cool summers and mild winters.
Language
Dutch (official), Frisian (official)
Monetary Unit
euro (EUR)
Largest Cities
Amsterdam, Rotterdam, sGravenhage, Utrecht, Eindhoven, Tilburg, Groningen, Breda, Apeldoorn, Nijmegen,
Enschede, Almere, Haarlem, Arnhem, Zaanstad, sHertogenbosch, Amersfoort, Maastricht, Dordrecht, Leiden, Haarlemmermeer,
Zoetermeer, Emmen, Zwolle, Ede
Principal rivers
Mosa, Rhein
Places to Visit
Monaco
Airports
Amsterdam Schiphol, Amsterdam Schiphol, Bergen Op Zoom Wonsdrecht, Breda Gilze Rijn, Eindhoven, Enschede Twente,
Groningen Eelde, Hilversum, Leeuwarden, Leiden Valkenburg, Lelystad, Maastricht, Rotterdam, Schipol, Texel, The Hague,
Uden Volkel, Utrecht Soesterbrg, Woensdrecht Ab
ISD codes & International time