NEPAL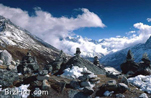 Nepal, a predominantly mountainous country 145 to 241 km wide and approximately 800 km long, is landlocked and bordered by the Tibetan region of China to the north and by India to the south, east and west. It is divided into three natural east-west geographical zones. Along its southern border is the Terai, an extension of the vast north Indian plain. The central middle hills rise to 2,700 m and are interspersed with fertile valleys of which the Kathmandu Valley is the largest. In the north, the Himalayas form an unbroken mountain range which contains eight peaks higher than 8,000 m, including Mt Everest on the border with China.
Location
Southern Asia, between China and India
Geography
Landlocked; strategic location between China and India; contains eight of world's 10 highest peaks, including Mount Everest and Kanchenjunga - the world's tallest and third tallest - on the borders with China and India respectively.
Capital
Kathmandu
Population
28,287,147
Climate
varies from cool summers and severe winters in north to subtropical summers and mild winters in south.
Language
Nepali 47.8%, Maithali 12.1%, Bhojpuri 7.4%, Tharu (Dagaura/Rana) 5.8%, Tamang 5.1%, Newar 3.6%, Magar 3.3%, Awadhi 2.4%, other 10%, unspecified 2.5%.
Monetary Unit
Nepalese rupee (NPR)
Places to Visit
Kathmandu, Pokhara, Mt Everest base camp via Tyangboche Buddhist monastery, Lukla, Namche Bazaar
Airports
Kathmandu International airport, Pokhara and many other Air strips & Helipads
ISD codes & International time