LITHUANIA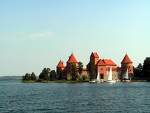 Located in Eastern Europe, Lithuania borders Russia, Latvia, and the Baltic Sea. It covers an area slightly larger than West Virginia. The terrain consists mainly of lowlands with a number of small lakes. Lithuanians experience a transitional climate with wet, moderate summers and winters. While Lithuania has an abundance of fertile soil, it has few important natural resources.
Location
The Republic is bounded in the north by Lativa, east and south by Belorussia, and west by Polond, the Kaliningrad area of Russia and the Baltic Sea.
Geography
Fertile central plains are separated by hilly uplands that are ancient glacial deposits.
Capital
Vilnius
Population
3,585,906
Climate
Transitional, between maritime and continental; wet, moderate winters and summers.
Language
Lithuanian
Monetary Unit
Litas
Largest Cities
Vilnius, Kannas, Klaipeda, Siauliai
Principal rivers
Nemunas(Neman), Vihnya
Places to Visit
Vilnius, Kannas, Klaipeda, Siauliai
Air Ports
Vilnius International Air Port
ISD codes & International time