LATVIA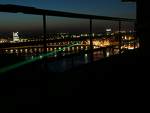 Latvia is located in Northeastern Europe, bordering Estonia to the north, Russia to the east, Lithuania to the south, and the Baltic Sea to the west. It covers an area slightly larger than West Virginia. The climate is maritime with wet, moderate winters. A low plain runs across much of the land to form the Latvian terrain. Natural resources are minimal and include amber, peat, limestone, and dolomite.
Location
Latvia is bounded in the north by Estonia and the Baltic Sea, west by the Baltic, south by Lithuania and Belarus and east by Russia.
Geography
Most of the country is composed of fertile, low-lying plains, with some hills in the east.
Capital
Riga
Population
2,274,735
Climate
Mritime; wet, moderate winters.
Language
Latvian
Monetary Unit
Lats
Largest Cities
Daugavpils, Liepaja, Jelgava, Jurmala, Ventspils.
Principal rivers
Daugava
Places to Visit
Riga, Jelgava, Jurmala, Liepaja
Air Ports
Splive International Air Port
ISD codes & International time