HUNGARY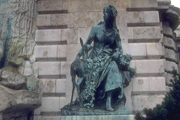 Hungary is located in Central Europe, northwest of Russia. It covers an area slightly smaller than Indiana. The climate is temperate with cold, cloudy, humid winters and warm summers. The terrain is mostly flat to rolling plains with hills and low mountains on the northern border. Natural resources include bauxite, coal, natural gas, and fertile soils.
Location
East Europe. Czechoslovakia is to the north Austria to the west, Yugoslavia to the south-west, Romania to the south-east and republics of former U.S.S.R. to the north-east. Hungary is a landlocked country but has access to the sea via the Danube.
Geography
Landlocked; strategic location astride main land routes between Western Europe and Balkan Peninsula as well as between Ukraine and Mediterranean basin; the north-south flowing Duna (Danube) and Tisza Rivers divide the country into three large regions.
Capital
Budapest
Population
9,981,334
Climate
Temperate; cold, cloudy, humid winters; warm summers
Language
Magyar
Monetary Unit
Forint
Largest Cities
Budapest, Miskolc, Debrecen, Szeged, Pecs
Principal rivers
Danube, Tisza, Drava
Places to Visit
Budapest, Debrecen, Szeged, Pecs, Mt.Kekes
Air Ports
Budapest International Air Port
ISD codes & International time