GERMANY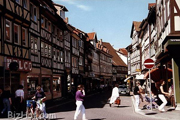 Germany is located in Central Europe, with Denmark and the Baltic and North Seas to the north. It is between Poland to the east and the Netherlands to the west. It covers an area slightly smaller than Montana. The climate is temperate and marine with cool, cloudy, wet winters and summers. The terrain is lowlands in the north, uplands in the center, and the Bavarian Alps in the south. Some natural resources include iron ore, coal, timber, uranium, natural gas and copper.
Location
Located in Northern Central Europe, Germany has coastlines on the North and Baltic Seas. Belgium, Luxembourg and Netherlands are to its west, Denmark to the north, Czechoslovakia to the east, Austria to the south-east, Switzerland to the south and France to the south-west.
Geography
Strategic location on North European Plain and along the entrance to the Baltic Sea.
Capital
Berlin
Population
82,422,299 (July 2006 est.)
Climate
Temperate and marine; cool, cloudy, wet winters and summers; occasional warm mountain (foehn) wind.
Language
German
Monetary Unit
Deutsche Mark
Largest Cities
Hamburg, Munich, Cologne, Essen, Frankfurt, Dortmund, Dusseldorf, Stuttgart, Bremen, Hannover, Dresden, Leipzig
Principal rivers
Rhine, Elbe, Danube, Oder, Moselle Neckar, Havel, Leine, Weser
Places to Visit
Augsberg, Berlin, Bonn, Dortmund, Hamburg, Munich, Stuttgart
Air Ports
Frankfurt International Airport, Tagel Airport, Schoenefeld Airport, Bonn International Airport.
ISD codes & International time