FRANCE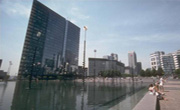 France officially the French Republic is a country whose metropolitan territory is located in Western Europe and which also comprises various overseas islands and territories located in other continents. Metropolitan France extends from the Mediterranean Sea to the English Channel and the North Sea, and from the Rhine to the Atlantic Ocean. French people often refer to Metropolitan France as L'Hexagone (The "Hexagon") because of the geometric shape of its territory.
Location
Located in Western Europe, France has coastlines on the North Sea, Atlantic Ocean and Mediterranean Sea. Belgium and Luxembourg are the north, West Germany to the north-east, Switzerland and Italy to the east and Spain to the south- west. Corsica is off the coast to the south-east in the Mediterranean Sea.
Geography
Largest West European nation
Capital
Paris
Population
60,876,136
Climate
Generally cool winters and mild summers, but mild winters and hot summers along the Mediterranean; occasional strong, cold, dry, north-to-northwesterly wind known as mistral.
Language
French, declining regional dialects
Monetary Unit
French Franc
Largest Cities
Paris, Marseilles, Lyons, Toulouse, Nice, Nantes, Strasbourg, Bordeaux.
Principal rivers
Rhine, Loire, Rhone, Seine, Garonne, Saone
Places to Visit
Agen, Albi, Amboise, Bayonne, Bordeaux, Calais, Paris, Marseilles, Lyons
Air Ports
Le Sequestre Airport (Albi), St. Symphorein Airport (Amboise), Paris-Plage Airport (Le Touqvet), Lourdes International Airport, Satolas Airport (Lyons), Paris International Airport.
ISD codes & International time