FINLAND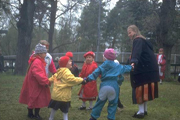 Finland is located in Northern Europe, bordering Norway to the north, Russia to the east, the Gulf of Finland to the south, and the Gulf of Bothnia and Sweden to the west. It covers an area slightly smaller than Montana. The climate is cold temperate, nearly subarctic, but is comparatively mild due to the influence of surrounding bodies of water. Finland is mostly composed of low, flat to rolling plains which are interspersed with lakes and low hills. Natural resources include timber, copper, and iron ore.
Location
Locatedin Northern Europe, Finland has a coastline on the Baltic Sea. The Gulf of Bothnia is to the west and Gulf of Finland to the south. To the east is the C.I.S. and Sweden to the west. There is also a border with Norway to the north.
Geography
Long boundary with Russia; Helsinki is northernmost national capital on European continent; population concentrated on small southwestern coastal plain.
Capital
Helsinki
Population
5,231,372
Climate
Cold temperate; potentially subarctic but comparatively mild because of moderating influence of the North Atlantic Current, Baltic Sea, and more than 60,000 lakes.
Language
Finnish, Swedish.
Monetary Unit
Markka
Largest Cities
Helsinki, Tampere, Espoo, Turku, Vanta
Principal rivers
Paatsjoki, Torniojoki, Kemiloki, Kokemaenjoki
Places to Visit
Espoo, Helsinki, Imatra, Kokkola, Lappenranta, Tornio, Savonlinna
Air Ports
Airport sare at Vantaa (Helsinki), Lappenranta, Savonlinna, Kemi.
ISD codes & International time