DENMARK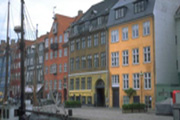 The Kingdom of Denmark is the smallest and southernmost of the Nordic countries. Located north of Germany, southwest of Sweden, and south of Norway, it is in Scandinavia in northern Europe, but not on the Scandinavian Peninsula.
Denmark borders the Baltic Sea and the North Sea, and consists of a peninsula named Jutland (Jylland) attached to Northern Germany, the islands of Funen, Zealand, Bornholm and many smaller islands, often referred to as the Danish Archipelago.
Location
Located in Northern Europe, Denmark occupies the Jutland peninsula and some 500 islands, including the main islands of Zealand, Funen and Lolland, between the North Sea to the west and theBaltic Sea to the east. West Germany is located to the south and Sweden to the east across the Sound. The Kattetgat is to the north-east and Skagerrak to the north.
Geography
Controls Danish Straits (Skagerrak and Kattegat) linking Baltic and North Seas; about one-quarter of the population lives in greater.
Capital
Copenhagen
Population
5,450,661 (July 2006 est.)
Climate
Temperate; humid and overcast; mild, windy winters and cool summers.
Language
Danish, Faroese, Greenlandic (an Inuit Dialect), small German-speaking minority
Monetary Unit
Danish Krone
Largest Cities
Copenhagen, Arhus, Odense, Alborg, Esbjerg, Randers, Kolding, Helsingor, Horsens
Principal rivers
Gudena
Places to Visit
Abenara, Alborg, Esberg, Faroe Island, Copenhagen, Herning,
Horsens, Randers, Silke Borg
Air Ports
Vojens Airport, Vagar Airport (Faroe Islands), Karup Airport (Herning), Tirstrup Airport,
Copenhagen International Airport, Alborg Airport
ISD codes & International time