CZECH REPUBLIC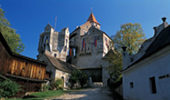 The Czech Republic is a landlocked country in Central Europe and a member state of the European Union. The country has borders with Poland to the north, Germany to the northwest and west, Austria to the south, and Slovakia to the east. The historic city of Prague, a major tourist attraction, is its capital and largest city. Other major cities include Brno, Ostrava, Zlín, Plzen, Pardubice, Hradec Králové, Ceské Budejovice, Liberec, Olomouc, and Ústí nad Labem.
Location
The republic is bounded in the west by Germany, north by Poland, east by Slovakia and south by Austria.
Geography
Landlocked; strategically located astride some of oldest and most significant land routes in Europe; Moravian Gate is a traditional military corridor between the North European Plain and the Danube in central Europe.
Capital
Prague
Population
10,235,455 (July 2006 est.)
Climate
Temperate; cool summers; cold, cloudy, humid winters.
Language
Czech
Monetary Unit
Koruna
Largest Cities
Prague, Brno, Ostrava, Plzen
Principal rivers
Elbe (Labe), Vitava (Moldau), Morava
Places to Visit
Berno, Ostrava, Prague, Tatras Mountains, Karlovy Vary
Air Ports
Ruzyne International Airport (Prague), Mosnov Airport (Ostrava)
ISD codes & International time