CROATIA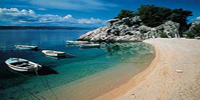 Croatia officially the Republic of Croatia is a country in Europe, at the crossroads of the Mediterranean, Central Europe and the Balkans. Its capital is Zagreb. This nation shares borders with Slovenia and Hungary to the North, Serbia to the east and Bosnia and Herzegovina and Montenegro to the south. In recent history, it was a republic in the SFR Yugoslavia, but it achieved independence in 1991. It is a candidate for membership in the European Union and NATO.
Location
Bounded in the north by Slovenia and Hungary and in the east by Serbia, it has an extensive Adriatic coastline well provided with ports and includes and the historical areas of Dalmatia, Istria and Slavonia which no longer have administrative status.
Geography
Controls most land routes from Western Europe to Aegean Sea and Turkish Straits.
Capital
Zegreb
Population
4,494,749
Climate
Mediterranean and continental; continental climate predominant with hot summers and cold winters; mild winters, dry summers along coast.
Language
Croatian written with Roman
Monetary Unit
Kuna
Largest Cities
Zagreb, Split, Rijeka (Fiume), Osijek
Principal rivers
Sava, Danube, Drava
Places to Visit
Zagreb, Split, Rijeka, Osijek
Air Ports
Zagreb International Airport
ISD codes & International time