COSTA RICA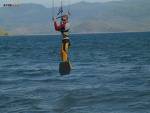 Costa Rica, officially the Republic of Costa Rica is a country in Central America, bordered by Nicaragua to the north, Panama to the south-southeast, the Pacific Ocean to the west and south, and the Caribbean Sea to the east. Costa Rica was the first country in the world to constitutionally abolish its army.
Location
Central America. The Caribbean Sea is to the east and Pacific Ocean to the west, with Nicaragua to the north and Panama to the south-east.
Geography
Four volcanoes, two of them active, rise near the capital of San Jose in the center of the country; one of the volcanoes, Irazu, erupted destructively in 1963-65.
Capital
Kan Jose
Population
4,075,261
Climate
Tropical and subtropical; dry season (December to April); rainy season (May to November); cooler in highlands.
Language
Spanish
Monetary Unit
Costa Rican Coion
Largest Cities
Alajuela, Cartago, Puntarenas Limon.
Principal rivers
Rio Grande
Places to Visit
San Jose, Carta Go, Punta Arenas, Alajuela, Limon
Air Ports
San Jose International Airport
ISD codes & International time