COMOROS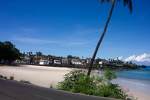 The Comoros Islands—Grande Comoro (Ngazidja), Anjouan, Mohéli, and Mayotte (which is not part of the country and retains ties to France)—constitute an archipelago of volcanic origin in the Indian Ocean, 190 mi off the coast of Mozambique.
Location
Western Indian Ocean. Comoros is an archipelago of four islands off the east American coast of Mozambique.
Geography
Important location at northern end of Mozambique Channel.
Capital
Moroni (on Grande Comoro)
Population
690,948
Climate
Tropical marine; rainy season (November to May).
Language
Shaafi Islam, Malagasu, French, Arabic.
Monetary Unit
Franc CFA
Largest Cities
Fomboni, Mutsamude
Places to Visit
Moroni, Fomboni, Mutsamudu
Air Ports
Moroni International Airport
ISD codes & International time