CHILE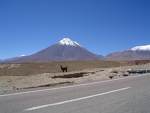 Chile, officially the Republic of Chile is a country in South America occupying a long coastal strip between the Andes mountains and the Pacific Ocean. It borders Argentina to the east, Bolivia to the northeast, Peru to the north, and the Cape Horn to the south.
Location
South-west of South America, Chile has a coastline on the Pacific Ocean. Argentina and Bolivia are located to its east and Peru to its north. The Andes mountains run the length of the country, forming the border with Argentina. Many islands are included in the republic, of which Easter islands is about 3,000 km to the west in the Pacific Ocean.
Geography
important location between Cuba and Central America.
Capital
Santiago
Population
45,436
Climate
Temperate; desert in north; Mediterranean in central region; cool and damp in south.
Language
Spanish
Monetary Unit
Chilean Peso
Largest Cities
Valparaiso, Concepcion, Vina del Mar, Puente Alto, Talcahuano, Antofagasta
Principal rivers
Loa, Maule, Bio-Bio
Places to Visit
Santiago, concepcion, Puente Alto, Arica, Easter Island, Punta Arenas
Air Ports
Presidente Ibanez International Airport, Arturo Merino Benitez Airport (Santiago), Chacalluta Airport (Arica), Carriel Sur Airport (Concepcion)
ISD codes & International time